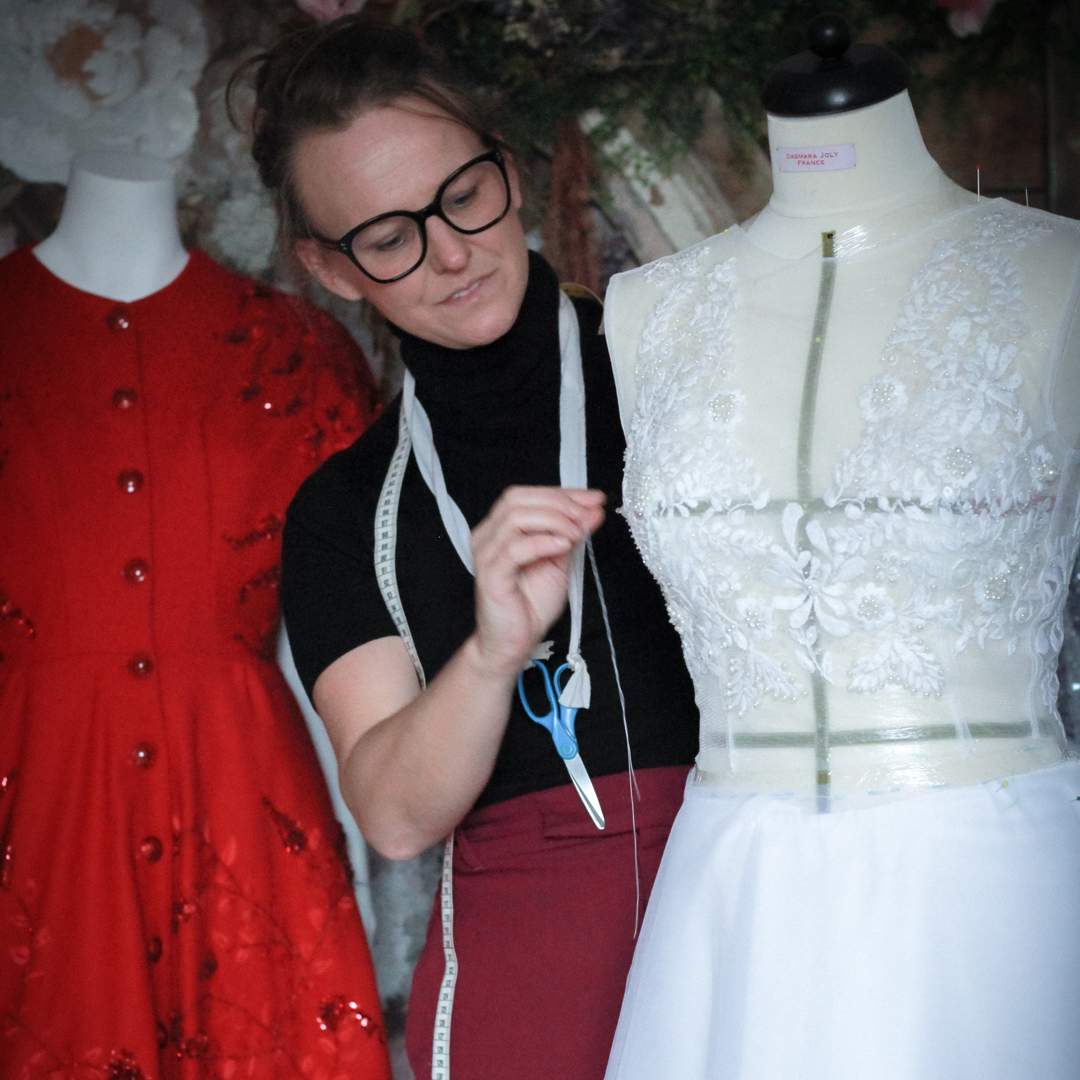 Where are you based?
Atelier Dagmara Joly is based in France, in a really nice city called Wattrelos ( 59150) . All our garments are 100% hand tailored, made in France.
How do you manage making custom tailored clothing in distance?
Dagmara Joly believes in making beautiful, high quality, flattering and well fitted garments for every body shape at affordable prices and in limited quantities to ensure exclusivity.
Working on adjustable mannequins and asking every customer to provide list of accurate measurements, either taken by professional seamstress, tailor or taken by themselves, gives Dagmara Joly A chance to do so.
How does the tailoring and purchasing process work for a made to measure product?
After purchase, Dagmara Joly, will send you an email asking for your exact measurements. You don't need a tailor, just a friend or yourself and by following this video: TUTORIAL, you will be able to take your measurements.
If you are unsure how to take your own measurements you can contact with us and we will help you.
The the process of creating begins- all ordered garments are made from scratches. Working with your measurements allow Dagmara Joly to create a pattern on adjustable mannequins, then cutting fabrics, putting pieces together in order to create exclusive hand made and hand tailored garment just for you. 
Each product is individually made and there is no product the same as any other. 
Can I customize to my own liking any of your designs?
Yes. I work closely with all my customers and their demands. You can personalize details such as sleeves, length, collars, adding hood, fabrics, colors etc . Contact with Dagmara Joly for more details and options available.
Can you send me a sample to try?
No, unfortunately that is not possible. Dagmara Joly doesn't have a stock of creations. All designs are made to order and measure.
Do you have a stockist?
No, Dagmara Joly is a hand and tailor made, and she likes to keep the personal connection with customers. Selling through stockist would mean loosing that connection and possibility of creating perfectly fitted garments.
You can buy directly from Dagmara Joly website wherever you are located in the world or come personally to her's atelier.
How do I take my measurements?
Here is link to a really great tutorial on how to measure yourself :tutorial 
If you have any doubts or questions please contact with Dagmara Joly on : contact@dagmarajoly.com
Do you do sales?
Each item is custom and tailor made upon order based on specific size. Dagmara Joly doesn't do sales.
From time to time, the "sample" garments used for photoshoots are discounted.
Do you accept return and exchanges?
Garments made to order/measure: 
If the garment doesn't fit you due to making error or if the item is damaged due to making error, then the item can be returned for a full refund. Please contact Dagmara Joly if any problems occurs.
If you are not 100% satisfied with your purchase, it can be returned for a full refund ( shipping fees are not refundable). You will have to notify Dagmara Joly by sending an email to contact [!at] dagmarajoly.com within 2 days upon receiving your package. Then you will have 7 working days to send the item back in an unworn, perfect condition ( no make-up stains, or perfumes scents etc ,or any signs of wearing it: this disqualify item to be refunded). 
What if my garment does not fit?
If your garment doesn't not fit, and requires only a few adjustments in order to get it right, Dagmara Joly will cover your product alterations. ( You would need to take your garment to the tailor within 7 working days from receiving it and provide Dagmara Joly with an invoice from the tailor with the short description of the adjustments made)
You will have to contact with Dagmara Joly within 5 working days after receiving your order, explaining the issues as clear as possible.
Dagmara Joly reserves the right to refuse refunds in these conditions:
-when alterations made by the local tailor doesn't meet your expectations
-when the product returned it's not in perfect condition or missing labels on it.
-when measurements provided are incorrect
-when buyer changes her'smind about purchased item
Can I be assured of your business?
Dagmara Joly sells to women all over the world and pride herself in delivering exceptional service.
Before launching Dagmara Joly website, I sold mainly on Etsy, where I got hundreds of positive reviews and happy customers. You can read them all here: reviews